Thousand is a cool US brand that is already known for its retro style cycling helmets. The innovative company has now branched out into bicycle lights, including the Thousand Traveler Light, which is available in both front and rear editions. You can buy them as a pair or individually, depending on your needs and what you already have.
However, if you're looking for a consistent theme, they look pretty cool when paired up as a pair. They certainly fit right next to the best bike lights you can buy right now.
These two lights might look a bit retro, but they also work with the front one delivering 250 peak lumens of performance. The rear, meanwhile, offers a peak Lumen of 80. Both come complete with everything you need to get started, with rechargeable batteries and a USB cable that can recover 100% of each light in just two hours.
Thousand Traveller: Pricing and Availability
The Thousand Traveler Light combo is available for purchase now on the website thousand sites (opens in new tab). Each light is sold as a separate entity, with its own sleek, all-inclusive packaging to light it up. You'll pay around £32 / $35 / AU$55 for each, so a pair for roughly £64 / $70 / AU$110 makes the cycle light duo look like an attractive proposition.
Thousand Travelers: Design
Stylish and quirky design
compress
Magnetic release a little tricky
Both Thousand Traveler Lights come in elegant, recyclable packaging, which immediately gives you an indication of the quality you can expect. The design might be seen as quirky by some, but the almost retro style fits perfectly with the vibe given by the brand. If you're a fan of their cycling helmets, it's safe to say you'll be on board with this bike lights holder.
Bike lights used to be boring cycling accessories with little appeal, other than showing you the way home, as well as letting you be seen. Now, though, quirky new brands like Thousand are revitalizing the bike light market, with a variety of lights that look cool and work too.
Our examples arrived in Speedway Crème, with a red/brown flexible rubber mounting strap, but you can also get them in Stealth Black or Thousand Navy. The lights are actually quite compact, with the actual lighting area proving to be the biggest part of the design.
The feel is quality though, with a really solid twisting action allowing you to select on/off or the other light modes on offer. There's also a magnet inside each design, allowing for quick and easy attachment, although this can be tricky at times to release.
Thousand Travelers: Features
Three light settings (Solid, Flash, Eco-Flash)
Up to 250 lumens for front light
IPX4 waterproofing
Any of the Thousand Traveler Light models come with an attractive array of features and functions, making one or both a great choice to light your way. The front light has three light settings including Solid, a Daylight Flash option and finally Eco Flash which is much more frugal.
Meanwhile, the rear-facing Thousand Traveler Light has the same three settings. Switching between these modes is easily done by simply turning the mode dial on the light body itself.
Charging the Thousand Traveler Light takes 2 hours and can be done with the supplied USB cable. The light itself weighs 40 grams, while the mounting bracket is 20 grams. The way the latter is rubberized means that during our testing we found that fitting the lights in is an incredibly simple process.
It's worth noting that the light will work with handlebar thicknesses between 22.5 and 35mm, covering the vast majority of frames, but exceptionally thin roadsters or beefy e-bikes might be out of luck. The lights are IPX4 waterproof rated, so they'll withstand the worst rain, but we wouldn't submerge them for any reason (as if you were planning to).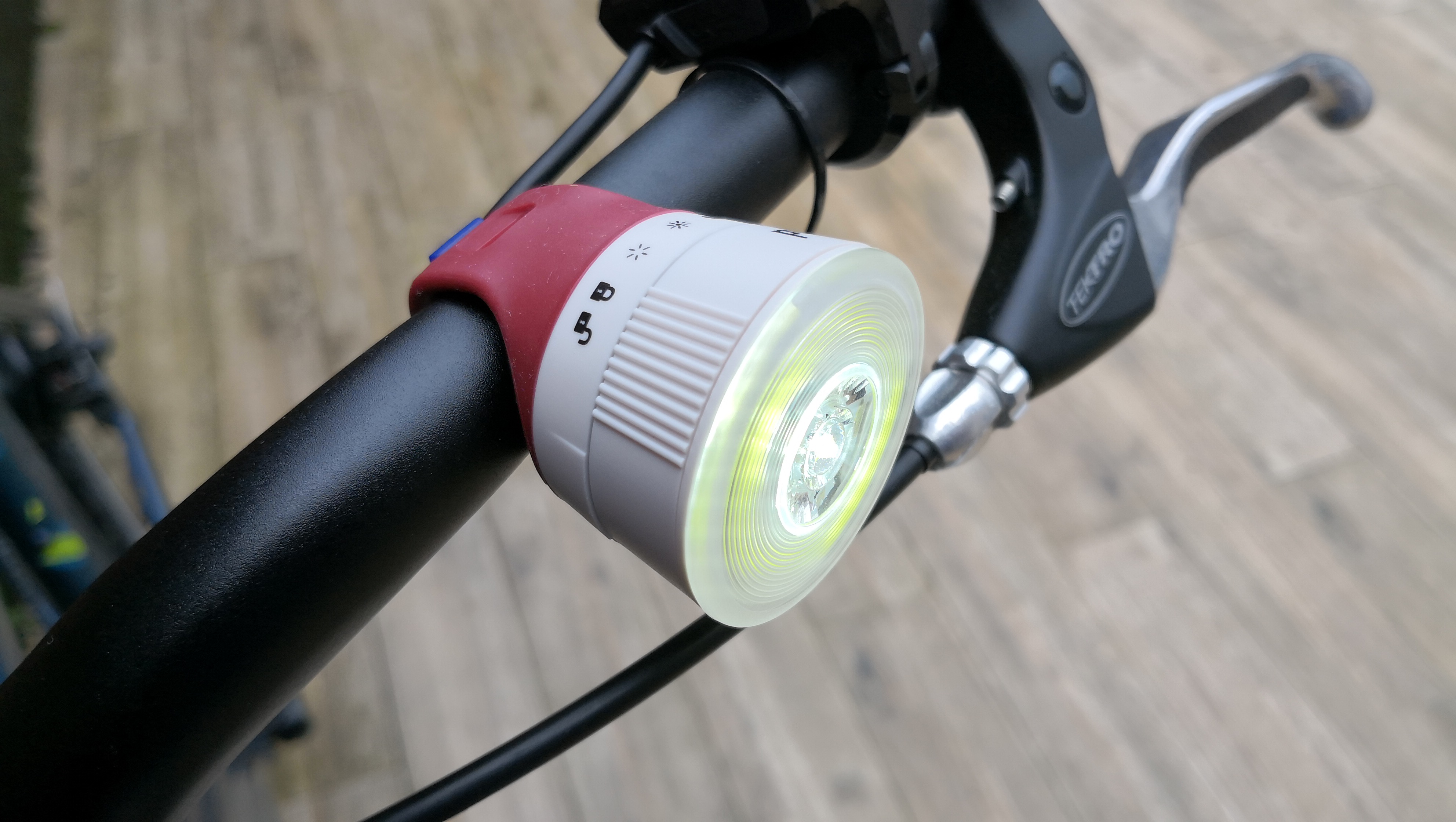 Thousand Traveller: battery life
Two hours charging time
Eco-Flash significantly increases battery life
Rear light not as efficient as front light
The front and rear lights come complete with everything you need to get started, with rechargeable batteries and a USB cable that can recover each light up to 100% in just two hours. There's a stylish dial switch on the body of each light, and turning it lets you switch between the three different modes, which means you can enjoy the full battery life.
In front light, Solid mode gives you 100LM for eight hours, Daylight Flash means you get 250LM for six hours, and Eco-Flash gives you 30LM or 36 hours of on-time. In the backlight, things look a little different: Solid offers up to 35LM or 4.5 hours of illumination, Daylight Flash offers 80LM or 3.75 hours of brightness, and the Eco Flash option takes the uptime to 10LM or 22 hours. .
The performance numbers outlined above also seem to be worth it, with a decent payback from the internal battery. If charging is an issue, you can switch back to eco-flash to get enough power to complete a journey home. The other bonus with any of these bike lights is how easily you can recharge them. That two-hour recharge time is accurate according to our tests, though since the taillight fails faster than the front light, you could end up in a position where the taillight runs out of charge before you know it.
Battery life score: 3.5/5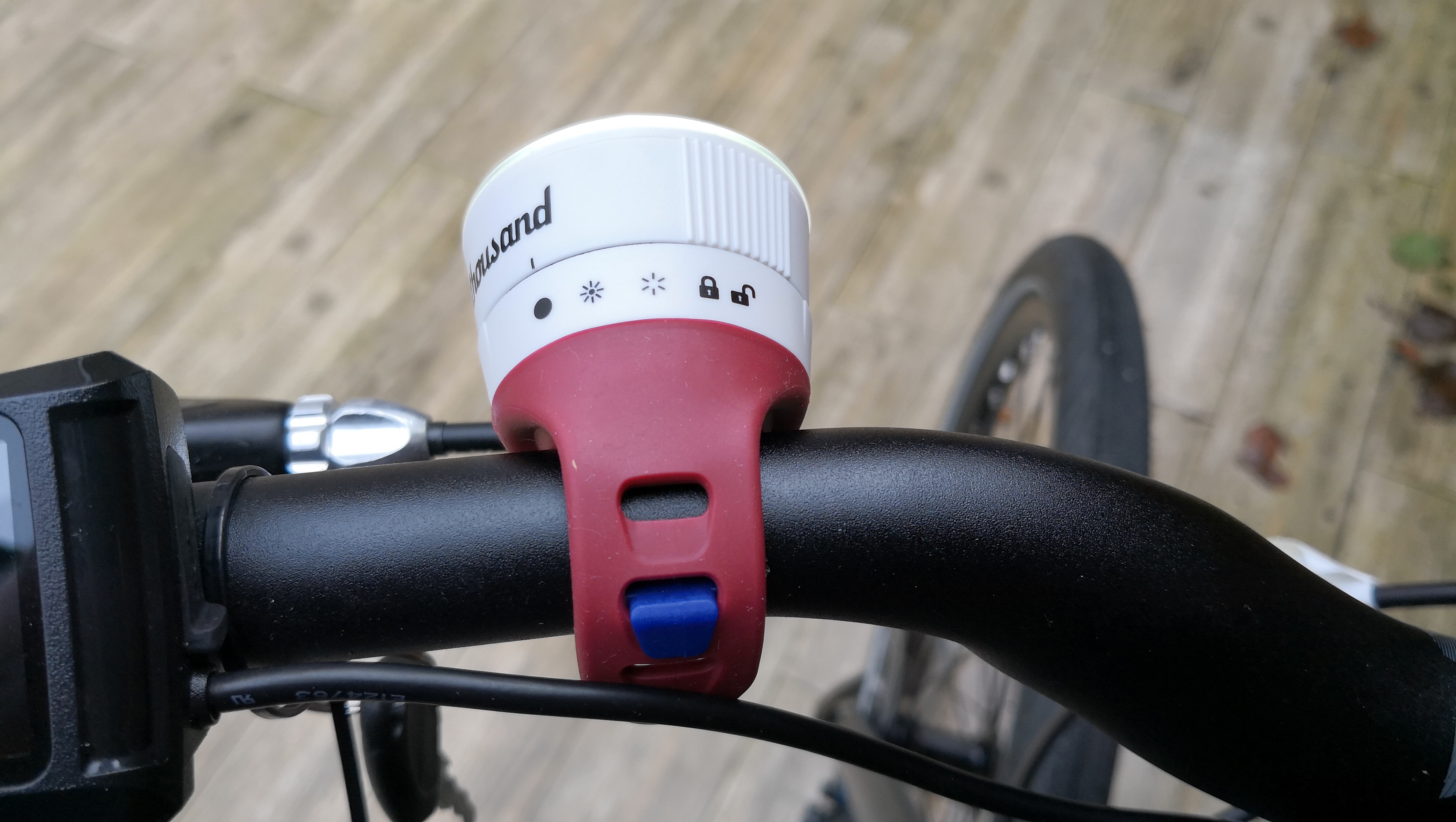 A Thousand Travelers: Performance
Reliable
Looks good
Easily removed from the bike once parked
Whichever Thousand Traveler Light option you choose, you'll find them performing solidly and reliably. The elegant style makes them very unique and quite quirky. However, they are also extremely practical, with three practical lighting modes to choose from, ease of operation and a mounting system that combines a magnet system and rubberized wrist strap.
Ultimately this means you can turn your bike lights on and off in minimal time and take them with you for safety. They're also small enough to easily fit into a purse or coat pocket, which adds real value to the package.
Thousand Travelers: Buy if…
Don't buy if…
First reviewed in October 2022